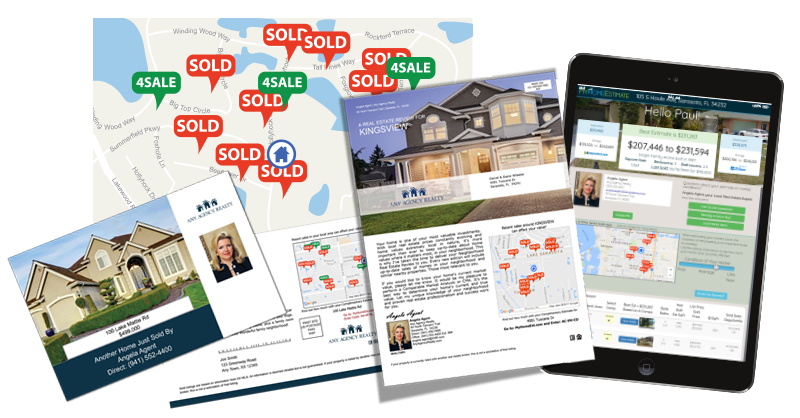 Homeowner Real-Time Leads
The Home Value Estimator (HVE) is a FREE real-time lead generation tool available to all agents using our Target Farming Reports or Just Listed/Just Sold Postcards. On each report or postcard, homeowners are drawn to a map of their home and surrounding neighborhood, showing them the various listed and sold homes in their area as well as their own.
Click here to view an example of what homeowners experience when going to MyHomeEst.com
STRONG CALL-TO-ACTION
What do homeowners care most about when it comes to their home? It's value. The Home Value Estimator delivers a strong call-to-action by offering a free home value estimate to homeowners at MyHomeEst.com.
NO PERSONAL INFORMATION REQUIRED
The HVE website customizes the web page to the homeowner without requiring any personal information to be entered, including a Google Street View of the homeowner's home and surrounding neighborhood! Homeowners simply enter a code referenced in the call-to-action and the website populates their information instantly! This process leads to a high conversion rate in leads, meaning more opportunities to get a listing.
IMMEDIATE FOLLOW-UP INFORMATION
The unique code entered by the homeowner ties back to the property and immediately provides to you, via email, the homeowner's name, address, phone number, and email address (if available). A text is also sent to you letting you know an email has been received and is in your inbox.
What will you do today to achieve success tomorrow?